Heavy Civil Demolition
A heavy civil construction project means a civil engineering project.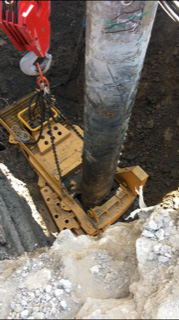 The predominant features of a heavy civil construction project are unoccupied infrastructure improvements, including, but not limited to:
Utility system construction
Transportation system construction
Marine construction and dredging
Earth retention systems
Park, ground, and recreation spaces
All of these improvements Prime Marine Services can assist in helping create a better environment.
From concrete pile crushing and exposing with new construction, to timber, pre-stressed pre-cast and auger cast concrete piles, or steel piles and I-Beams demolition, Prime Marine Services is the GO-TO company for effectiveness and efficiency. We are primarily utilized for demolition but also have the ability to cut off excess of piles not driven to grade and crush to expose rebar and strands.
Notable projects we have been on are The Margaret McDermott Bridge in Dallas, The Tappan Zee bridge in New York, and the Pensacola Bay Bridge in Florida, all of which are high profile projects here in the US. We have the equipment to provide your desired result in the pile cutting heavy civil demolition and new construction industry.
Inventor of the Prime Concrete Pile Cutter
We are the Original Equipment Manufacturer (OEM) and the inventor of the Prime Concrete Pile Cutter; we build and maintain every Prime Concrete Pile Cutter here at our facility in Louisiana. With us, you are dealing with the originator and will not get better quality equipment.
We only use the highest of quality grade components for our cutters and, although we have sold several units in the past, no one can match our efficiency in maintaining that standard.
We invite you to contact us for more information about any of our services or equipment.